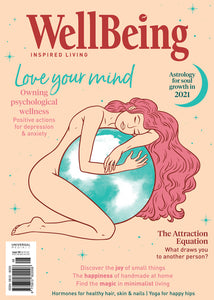 In this issue of WellBeing issue 189...
It's time to love your mind
Own your psychological wellness
Check out the positive actions you can take when facing depression and anxiety
Check out the astrology for soul growth in 2021
Learn more about the attraction equation and get the answers to what draws you to another person
And so much more!
About

 

WellBeing Magazine.
WellBeing Magazine is the authoritative resource on natural health and living for clever, compassionate, curious people who're seeking an authentic and soulful way of life. Through its informative, practical articles on ethical living, wholefood cooking, environmental affairs, alternative therapies, natural health and yoga, WellBeing has been inspiring and educating for more than 30 years.
At WellBeing, we get that life isn't just about surviving — it's also a series of choices about who you want to be and the world you hope to live in.
Additional Information
Frequency: Bi-Monthly