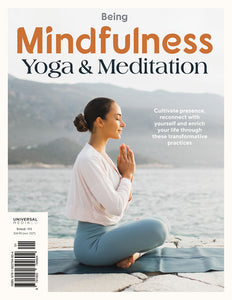 Practices such as mindfulness, yoga and meditation are life-changing tools that help bring us into the present moment — the only place that truly exists. This publication offers information and inspiration on how to integrate these practices into your daily life, whatever your experience level. While they all take different pathways to presence, they ultimately lead to the same destination: a place deep within you where you can seek refuge, feel calm and, ultimately, cultivate contentment.
Peek inside…
·       Learn how to practise mindfulness, yoga and meditation.
·       Hear from experts, who share their stories and offer helpful tips.
·       Journalling prompts to help deepen your practice.
·       And much, much more.
Additional Information
Year published: 2023
Size: 220mm x 300mm
Material: Made from premium quality paper​