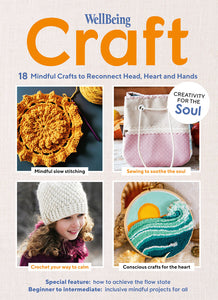 Welcome to WellBeing Craft!
This is a magazine that is dedicated to a range of beginner- to intermediate-level craft projects that are designed to inspire and delight. Some are practical projects and some are whimsical wonders that will capture the imagination and leave you filled with delight.
There are many known links between creativity and our mental state of health. When we sit down to create, we become singularly focused on the task at hand. We are often able to shut out the noise of the outside world for a moment and just be present as we stitch, as we knit, as we sew. This is mindfulness. This is wonder.

Focusing on a craft-based project has other benefits too. It can help sharpen our mental acuity as we push ourselves out of our comfort zones and into something new.
And then there is the simple beauty that comes with touch. These projects are all soft, tactile delights that your hands can help mould, that your fingers will help shape into their final forms. They make great additions to your own home or can be given as gifts to those who need them.